our story, well at least the beginning…
Once upon a time…
in a land far, far away called staten island, a girl had a dream of turning her love and passion for capturing life's moments and designing beautiful events into something she can share with the world- or at least the tri-state area.
One late Sunday evening, sitting in the middle of her tiny apartment living room, surrounded by ribbon, silk flowers, camera equipment and photo backdrops (and maybe a bottle of wine), this real life fairy tale approached its climax. Throw your hair down Rupunzel! Go to the Ball Cinderella! The time is now to take a leap of faith! A leap, jump and a shimmy right into her big girl glass slippers.
Fast forward a few scenes, and thanks to friends like Facebook, Etsy, Instagram, and an amazing support system, Happily Ever Created came to life!
but what do we really do?
weddings | family portraits | events | communions | real estate | newborn | maternity
centerpieces | photo walls | seating charts | invitations | theme development | favors
weddings | baby & bridal showers | birthdays | retirement |

corporate & holiday parties
say what?
Snapping photos for all occasions —even dog birthday shoots (yeah, that's a thing)— designing beautiful event decor and coordinating fun events are just a few of the characters in this book.
Happily Ever Created provides a wide variety of event related services. the best part, it's affordable! The only thing you wont find to be unrealistic in this Happily Ever are our prices. High quality, normal prices. (mic drop)
meet our creative magician
Founder, CEO

"Being able to freeze a moment in time to look at over and over again in an image is like magic. I consider myself a Magician"
-Gabrielle
with 10+ years of experience producing events in the fashion, music, art and non-profit industries, gabrielle's love for event planning, photography, design and of course stevie nicks, has enabled her to create many moments to remember. From birthday celebrations, black tie gala's, designing unique décor pieces and photographing some of life's precious moments, Happily Ever Created® came to life to offer a one stop shop to a wide variety of services, thriving from gabrielle's eclectic production wrap sheet.
want to ask me a question? Need an internship? just want to say hello?
Contact me: gabrielle@happilyevercreated.com
Happily Ever Created was founded by Gabrielle in January 2018 and operates under the name of Happily Ever Created, LLC.
GET SOCIAL WITH US.
@HAPPILYEVERCREATED
Twitter: @Happily_Created
INSTAGRAM FEED @happilyevercreated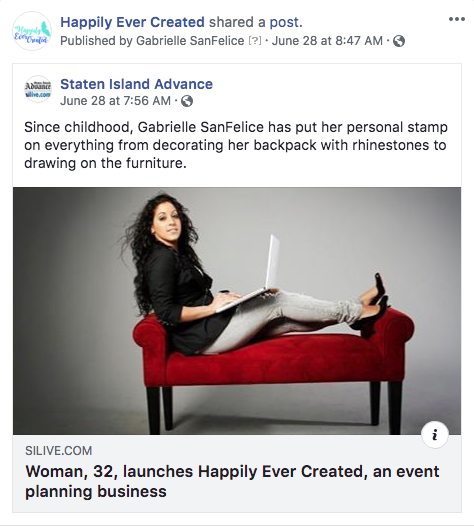 happily ever created in the
staten island advance